WAC Lighting's new Aether provides innovative downlight solution with low profile housing for shallow ceiling plenums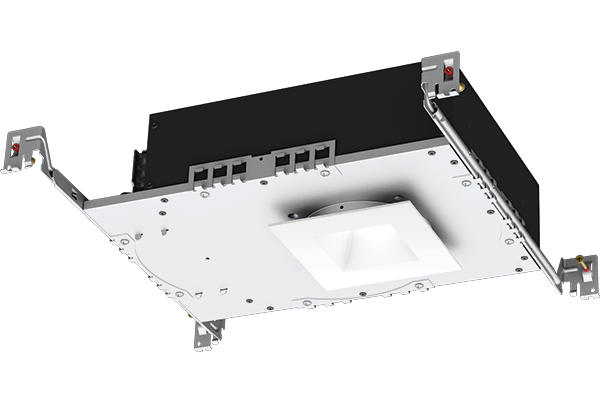 Port Washington, New York – Designed as the perfect lighting solution to fit shallow plenums above ceilings in residential and light commercial settings, the new Aether downlight from WAC Lighting is engineered with an exclusive, low profile 3.5-inch LED shallow housing. This housing is ideal for installation in small ceiling spaces inside buildings with complex HVAC ducts and heating/water pipes that are located between the floors.
Unlike most downlight housings on the market, the Aether Housing is ultra-shallow and manufactured at only 3.5 inches in depth. Energy Star rated and wet location listed for a variety of applications, Aether fits into ceilings with thicknesses that range from just .50 to 1.5-inches.
Utilizing WAC's proprietary LED technology, Aether operates with just 22.5 watts and delivers up to 1375 lumens, nearly doubling the performance of an MR16 halogen fixture. The luminaire is offered with a 25-degree narrow beam or 40-degree flood beam for various applications. Color temperatures range from 2700K to 4000K with a color-rendering index of up to 90. The luminaire dims with an electronic low voltage (ELV) or 0-10V dimmers and is rated for a 70,000-hour life.
Aether features a 3.5-inch trim aperture with a 35-degree cutoff angle so light is directed precisely where the designer needs it. It includes a universal driver that ranges from 120-277 volts.
Both round and square trim models are available. Trimless styles are offered for a clean, architectural on today's ceilings.
This luminaire is backed by a 5-year product warranty.
The WAC Lighting Story
WAC Lighting has been driving quality innovation and making it accessible to the marketplace for more than 30 years. Choosing to operate at a higher level of responsibility and oversight, the company has built a vertically integrated design, engineering and manufacturing operation. WAC has optimized electronic designs in luminaries from power supply circuit board construction to light engine designs in LED Task lighting, LED Recessed Lighting, LED Track and Accent lighting and LED decorative lighting. Proprietary LED technology provides superior brightness, efficiency, and robust operation over other LEDs on the market. WAC Lighting has spent countless hours of in-house testing, research and development, honing principles of thermal engineering, and optical designs for the absolute best in LED light. This commitment to excellence is what one should come to expect from a "Responsible Lighting" Company.
WAC Lighting Global Headquarters is located in Port Washington, New York, with Factories in New York, Ontario, California and China. WAC Lighting can be reached by phone at 1.800.526.2588 or by visiting www.waclighting.com